Restaurant Design Software with Smart Tools !
In short order quickly design your restaurant floor plans, kitchen layouts, seating charts, menus, bar designs and flyers with CAD Pro restaurant design software.
Smart tools help you create perfect & precise restaurant designs of any kind.
Restaurant design software is great for submitting plans for building permits.
Over 5000 Free Symbols or create and save your own symbols.
Quickly add restaurant designs to your website.
Share your restaurant designs over the internet!
Quickly send any restaurant design as an image in your emails by simply selecting the 'Send as Mail' option.
Save your restaurant designs as a PDF!
Save any CAD Pro documents as a PDF file, this will allow you to quickly communicate your restaurant design ideas with friends, family and contractors!
Works Great with Microsoft Office
Quickly insert any of your restaurant designs directly into any Microsoft Word, PowerPoint or Excel files making your next presentation the best it can be!
This is great for food cost management, inventory control, labor cost and other restaurant management tasks.
Sketch Tracing!
Sketch your restaurant designs on a piece of paper, and then scan it. Now open your scanned sketch in CAD Pro and it becomes a traceable template that you can easily modify.
CAD Pro is the only restaurant design software to:
Quickly incorporate voice instructions into your restaurant designs.
Add pop-up text memos to your restaurant designs to support areas in detail.
Add pop-up photos and transform restaurant layouts into designs you can visualize.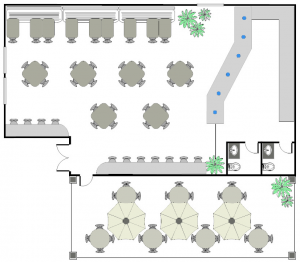 CADPro drafting software is also used for:
Home Office Designs
Auditorium Seating
Commercial Office Layouts
Party Seating
Factory Office Layouts
Restaurant Designs
Convention Space Layouts
Seating Charts
Restaurant Website Design