Add power to your CAD Pro Software with a full selection of professionally drawn symbols and sample plans. Get all 5,000 FREE CAD symbols and sample plans when you order CAD Pro today!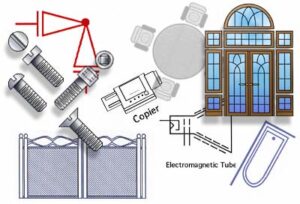 Over 5,000 FREE CAD Symbols!
You get all of the following categories free in the CAD Pro Software symbols collection, to meet all your drawing needs!
Computers
Bathrooms
HVAC
Business Flow Charts
Construction Details
Lan Charts
U.S.A. States
World Countries
Sample Designs
…and much more!
Customize the built-in symbols by creating your own libraries and templates.
Can't find the symbol you need?
Use CAD Pro to create your own shapes with CAD Pro's free form drawing tools, then fill them with color, different line styles, apply borders, and insert text as you would with any standard shape.
Use CAD Pro Software to create the following:
flow charts
block diagrams
data flow diagrams
decision trees
organizational charts
process flow diagrams
schematics
Gantt charts
diagrams
chemistry diagrams
time lines
space plans
flyers
posters
banners
maps
forms
…and much more!