CAD Pro Is Great for Restaurant Drawings!
In short order quickly design your restaurant drawings, kitchen layouts, seating charts, menus, bar designs and flyers with CAD Pro. CAD Pro's "Smart Tools" help you create perfect & precise restaurant drawings and kitchen designs of any kind in just a few short minutes. Let CAD Pro's "Smart Tools" turn your restaurant blueprints or restaurant drawings into reality!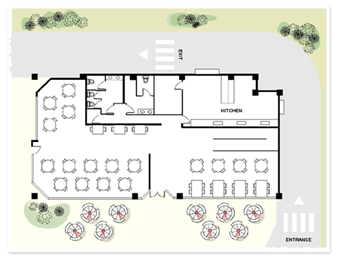 Restaurant drawings help you create an establishment which prepares and serves food and drinks for customers in return for money. CAD Pro offers the necessary features so that you may create any type of restaurant drawing.
Restaurant drawings assist you in creating designs where meals are served and eaten on premises. Some restaurant drawings assist you in creating restaurants that offer take-out and food delivery services. Restaurant drawings vary greatly in appearance and offerings, including a wide variety of cuisine and service models.
Computer aided design with CAD Pro uses conventional methods of graphic communication to solve drafting and basic design-related problems for any type of restaurant drawing. Many different types of restaurant drawings use computer aided design to translate the ideas, sketches and specifications of an engineer, architect, designer or builder into working blueprints or computer aided design plans.
Restaurant Drawings and Computer Aided Design Software!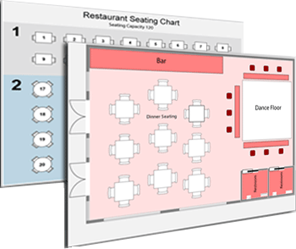 Add immediate value to your restaurant drawings with CAD Pros' computer aided design software. All computer drafting, designs and plans may include several views and a materials list. Quickly design and improve your ideas for restaurant drawings with computer aided design software from CAD Pro.
Save any CAD Pro Restaurant Drawing as a PDF file!
Save your CAD Pro computer aided design restaurant drawings as a PDF file, this will allow you to quickly communicate your restaurant drawings with friends, family, contractors and builders!