Landscape Design Software For Residential and Commercial Applications!
Turn Your Landscape Design Ideas Into Reality With CAD Pro
Landscape Design Software from CAD Pro® lets you design, visualize, and document your residential or commercial landscape design ideas clearly and efficiently.
CAD Pro offers a full set of drafting software features that will allow you to design any type of blueprints for landscape designs or layouts.
With CAD Pro you can design complete landscape jobs and quickly add them to any floor plan or plot plan!
Sketch Tracing!

Sketch your landscape designs on a piece of paper, and then scan it. Now open your scanned sketch in CAD Pro and it becomes a traceable template that you can easily modify.
Share your landscape designs over the internet!

Quickly send any landscape designs created in CAD Pro as an image in your emails by simply selecting the 'Send as Mail' option.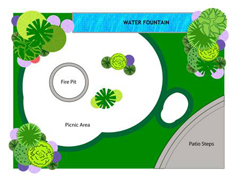 Save files as a PDF!

Save any CAD Pro documents as a PDF file, this will allow you to quickly communicate your design ideas with friends, family and landscape contractors!
Interactive Landscape Designs!

Now communicate your landscape design ideas more effectively, faster and easier than ever!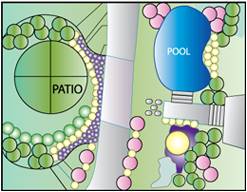 CAD Pro is the only software that allows you to:
Record your ideas and incorporate voice instructions into your landscape designs.
Add pop-up text memos to your landscape designs to support areas in plant, trees and shrub details.
Add pop-up photos and transform lanscape ideas into designs you can visualize.
CAD Pro gives you thousands of symbols and clipart free. You can also design your own symbols or clipart and save them for quick placement into any landscape designs you create.
CAD Pro Drafting Software is also used for:
Shop Plans
Restaurant Floor Plans
Detached Garage Plans
Kitchen Remodeling
Landscape Designs
Restaurant Design Ideas
Doll Houses
Furniture Designs
Bathroom Remodeling
Home Office Layouts
Outdoor Kitchens
Master Bath Designs
Kitchen Floor Plans
Sunrooms
Covered Patios