We have listed some of the best thrifty deck improvement tricks that are great for improving your outdoor deck experience. Very few home decks are truly engaging spots from which to enjoy the outdoors. But having an elaborate new deck constructed is likely to trigger a five-figure bill. Fortunately, there are some relatively simple and affordable ways to make an older or uninspired deck look much better…
Emphasize the surrounding landscape. Paint or stain the deck a dark brown, then surround it with brightly colored plants. Your local garden center can suggest plants appropriate for your climate and budget. This is a remarkably effective way to trick the eye into barely noticing a deck's shortcomings.
Install a vine-covered privacy trellis. Do you feel that you're on display to the neighbors when you are on your deck? ­Adding a trellis-a framework of lightweight rails—on one or more sides of the deck can provide a sense of privacy without completely blocking off your sunlight and/or view.
Home centers sell a variety of lattice panels and pre-made trellises. Four-by- eight-foot sections cost as little as $20 to $30. Replace your deck's handrail posts with posts tall enough to support the trellis. Growing vines over the trellis will soften the look of the deck and make it feel more connected to the landscape.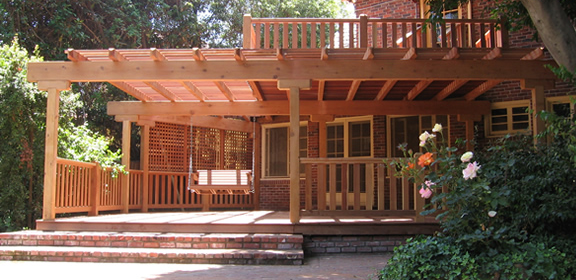 Put on a skirt. Deck skirting is solid or lattice paneling that extends from the deck down to near the ground. It's an affordable way to hide the unsightly area under a deck. Appropriate paneling made from wood or a wood-textured composite is available in home centers for as little as $20 to $30 per four-by-eight-foot ­section.
If your deck is a single step up from the ground, this skirting can be nailed to the deck's outermost joists (joists are the horizontal structural elements directly beneath the decking). If your deck is significantly higher than this, nail the skirting to the deck's support posts or to other vertical posts added below the perimeter of the deck for this purpose. Skirting typically is painted to match the home's siding but also could be stained a natural color or painted white.
Best thrifty deck improvement tricks and skirting tip. Leave at least two inches of space between the bottom of the skirting and the ground. That way, a winter frost that raises the ground level won't damage or dislodge the skirting or the deck itself.
Helpful: If your deck is more than three steps above ground level, you could cut a door into the skirting, ­creating a storage area for lawn and garden items under the deck. Use hinges and latches to hold this door in place, and screw in plastic or fiberglass corrugated roofing to the underside of the deck joists above to keep this storage area relatively dry. Position plastic or fiberglass at an angle so that water drains off.
Replace your deck's steps. Rickety, rotting steps can make an entire deck look and feel flimsy. If you have some basic woodworking skills, you can construct sturdier steps that will instead convey a sense of solidity and quality. This generally doesn't cost more than $100 or so in lumber, assuming that your deck is no more than a few feet above ground level. If your deck is much higher than this, it might be safer to leave the staircase building to the pros (this can cost a few hundred to a few thousand dollars).
Best Thrifty Deck Improvement Tricks and Tips
Tip: Each step in your staircase should be the same height. Unequal heights signal amateurish construction.
Ideally you should position the deck steps where people won't have to squeeze past a table or other deck furniture to get from inside your home down into your yard. Poor "flow" also subtly detracts from the impression created by a deck.
Add attractive caps to handrail posts. Best thrifty deck improvement tricks and handrail ideas and tips. Decorative wood or copper post caps are an easy and a potentially inexpensive way to dress up a deck. Post caps are available for as little as $10 apiece in home centers, though higher-­quality caps made by local craftsmen can cost significantly more. Or you can design your own post caps if you have basic woodworking skills.
Solar-powered post caps that light up at night are available in home centers, too, often for just $10 to $20 apiece. Purchase 50% to 100% more of these fixtures than you need so that you have replacements when some of the fixtures inevitably fail. You might not be able to find the same style of light fixture in stores in future years.
Thrifty Deck Improvement Tricks and Wood Protectors
Use long-lasting wood protector. The product One Time costs more than most deck stains and sealers-$85 per gallon (one gallon covers around 250 square feet of older wood). But One Time needs to be applied about once every seven years, instead of every two years for traditional sealers. Thus, over seven years, you'll spend $85 on One Time versus about $200 on a traditional sealer—a savings of $115. OneTimeWood.com
CAD Pro has helped thousands of homeowners, professional designers, builders and contractors plan and design all types of floor plan designs. CAD Pro is used by NARI professional remodelers and contractors and the NRCA roofing contractors. CAD Pro is also used by NHBA home builders and contractors as well as the National Association of Landscape professionals.