Five popular kitchen design trends to watch for in new home construction and remodeling. Although colorful appliances and high-tech gadgets were on display at the 2018 Kitchen and Bath Industry Show (KBIS) in January, not all items demonstrated on the showroom floor made it into people's homes.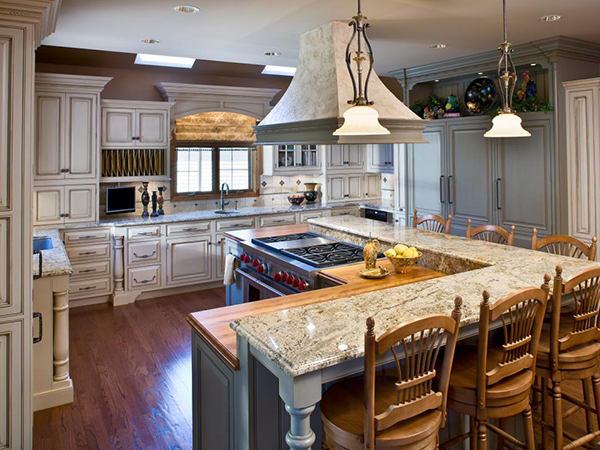 Popular Kitchen Design Trends
Connected kitchens: Technology can be used to improve safety in kitchens, such as appliances with an automatic shut-off or an alert system, which will become increasingly important for elderly people adjusting their homes to better meet their physical needs. Some exciting technology, such as smart appliances, are enticing but yet to be widely embraced by homeowners.
Popular kitchen design trends and options for smart appliances are refrigerators with a camera and an app so you can look at the contents when you're at the grocery store, and a refrigerator with an LCD panel with a menu of apps that can function as a command control for family messages.
Voice-activated controls to adjust lights or play music or look for a recipe are the most popular tech trends in the kitchen for new home construction and remodeling.
The 2018 Houzz Kitchen Trends survey found that 22 percent of homeowners add voice-controlled home assistants such as Google Home or Amazon Echo when remodeling their kitchens.
Declutter Your Kitchen
New ways to declutter: Neatness counts in today's kitchens, perhaps because most of the newer kitchens have an open floor plan that makes them more visible to guests and family.
The biggest motivation behind a kitchen design remodeling is reorganizing and increasing storage.
Decluttering their counters was the biggest motivator for 75 percent of remodelers, according to the Houzz survey, followed by putting things away (66 percent).
Popular kitchen design trends and homeowners are updating their cabinets with things like pullout recycling baskets, cookie sheet organizers, revolving corner trays, and pullout trays and shelves.
Two of five homeowners add kitchen islands when remodeling for extra storage and counter space, according to a Houzz survey.
Low Maintenance Materials for Kitchen Designs
Low maintenance materials: Quartz is the most popular material for kitchen counters, identified as trendy by 94 percent of kitchen designers in a NKBA study. Quartz is easy to clean, durable and available in a lot of color palettes.
Consumers today, especially millennials, have less tolerance for high-maintenance materials. They don't want moldings on their cabinets that catch dust, and they've realized that quartz requires less maintenance than marble or granite.
A Houzz survey found that consumers prefer simple Shaker cabinets (57 percent) or flat-panel cabinets (18 percent) when remodeling.
Add Color for Popular Kitchen Designs
A little color and darkness: Although white and gray are still on-trend for kitchens, colorful appliances and new metallic finishes could be found in abundance at the Kitchen and Bath Industry Show in 2018.
This is more of an emerging trend, but a survey of designers found that people are starting to integrate a little more color into their kitchens. Appliances and fixtures in brass, copper and gold finishes look elegant and not outdated. We're even seeing some bold appliance colors like cobalt blue or orange. The good thing about those is that they have a simple panel to exchange the front for a different color in the future.
Black stainless-steel with a matte finish was a major trend at KBIS this year and it's a true challenge to the popularity of traditional stainless steel.
It's smudge-resistant, which makes it really appealing to younger buyers with kids making it one of the most popular kitchen design trends.
Younger buyers are more concerned about resale and less confident of their design choices, so they're more likely to stay with white and gray kitchens.
Older buyers often plan to stay in their homes longer, so they're more willing to play around with color for a unique look, especially with a back splash or wall color.
CAD Software for Kitchen Designs
CAD Pro helps you plan and complete any type of popular kitchen designs with intuitive smart floor plan tools and kitchen design symbols.
Share your popular kitchen designs and plans with clients or contractors using Dropbox®, Google Drive™, OneDrive®, and SharePoint®. Export files to Microsoft Word®, Excel®, and PowerPoint® with a single click.
Cad Pro's kitchen design plan software is an affordable and easy alternative to other more expensive CAD software programs. Cad Pro is great for creating custom home plans, building plans, office plans, construction details, and much more.